It's obvious there's a problem when only 30% of marketers say their content marketing efforts are effective. There are so many reasons why this number isn't higher. Are you a part of that 30%?
We've identified common reasons why you might be a part of the 70% that say their content isn't the best. In no particular order, you might:
Lack research
Not promote enough
Be looking for immediate results
Talk about yourself too much
Lack visuals
Need a content marketing champion
If you feel your content needs a bit of a picker upper, read on for the solutions to these problems.
You haven't done your research
You'll be far more credible when your content backed by research. Whether you're B2C or B2B, research will be the anchor point of your content. The use of data is extremely important, and yes it does take a lot of time to do your research. Why is research so important?
Did you know that 24 million Americans drink an average of 74 alcoholic beverages a week?
Pretty outrageous statistic right? Well here's the source.
It's important because you want to make sure your audience is well informed. You're helping them learn, which also shows them your thought leadership.
But what if you can't find any research about your topic? Well, you're going to have to go out and do your own research. It's definitely going to be harder than a simple Google search, but it's well worth the trouble.
Remember to always cite your sources, and always dig deeper for the primary source. HubSpot has a good article that explains what valuable research looks like.
You aren't investing enough time to promote
Finishing up your content feels great. Typing out those last couple of words, or filming those last few minutes may seem like a rush. Trust your gut, because it most likely is. By the time you're done creating your content, would you rate it 5 stars? If not, then your audience won't either. Publish and promote what you're proud of! Your audience will either love your content, or not. Trust your gut and revisit your content if you ever feel you need to.
There's just one thing. Your job isn't over just because you published and promoted your content once. Publishing your content in one place like your blog, for instance, is not enough. This is why feeling good about your content is important. You're only going to promote content that you're 100% confident in.
Pick at least a few places to share your content, such as your email newsletter and social media posts. You gain more impressions when you dedicate more time than usual promoting your content.
You're probably thinking "I don't want to spam my audience!"
Good. Since you've dedicated yourself to sharing and promoting valuable content, you won't be. It's considered spamming when you're regurgitating a post you made 30 minutes ago. Don't be afraid to look back at your old content and promote it.
It's all fair game if your content is still considered relevant. Remember that you're sharing value, not just a piece of content.
You want results right away
Content marketing isn't an overnight solution. If you want your content marketing to work, you're going to have to get to work. You've put in a few weeks' worth of work – and published a few weeks' worth of articles. This only amounts to a few steps in the content marketing marathon.
Your content marketing is working, but it might not be obvious right now.
It's commonly said you should expect to see results from on-site content after at least 6 months. That it'll take a while for your content to attract an initial audience coming in from search engines. An exception to this is if you already have an existing audience. Your existing audience can help by promoting and sharing your new content.
For example, a YouTube channel with 500,000 subscribers will likely see results almost immediately. A YouTube channel with 50 subscribers, not so much.
If you're looking to win the content marketing race by sprinting, you're going to lose. You need patience and persistence to win. You've dedicated yourself to a marathon. You don't stop running in a marathon unless you're planning to lose, right?
You're always talking about yourself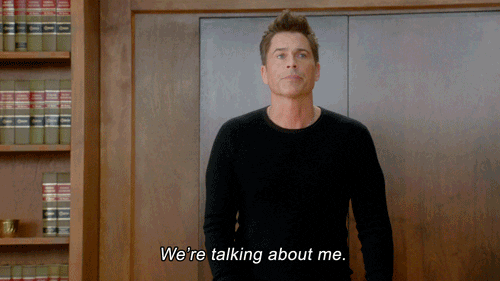 Have you ever had a conversation where the other person kept talking about themselves? Hearing them say the words "I", "my", or "me" way too many times made you glaze over like a donut. The same goes for your audience. If they feel the same way when reading your content, then it's probably not the greatest.
When people used to tell each other they ran a blog, they usually meant that they have an online journal entry. Nowadays you're reading blogs filled with useful information. Times have changed; people are looking to read what's useful to them.
Not a lot of people want to read your personal journal. That's unless you're a celebrity or entertainer of some sort.
You already know that your blog should make your target audience's life better. Your audience wants to hear about how you can help them. They don't want to hear about your latest achievement or epiphany.
There can be a fine line between useful content and personal journal entries. Some of the top articles on Medium can be viewed as personal journal entries. As long as your opinions and personal experiences can help someone, it's considered valuable.
There aren't any visuals
If you're not using any visuals, then you're missing out on a lot of traffic. You're actually missing out on 94% more views.
It's so much easier for your audience to digest an image or video versus a 2,500-word blog post. Your audience should see relevant visuals as they skim through your content. These visuals need to be compelling to keep them engaged.
There's a reason why Instagram has been doing so well. It's an endless library of images that can be tailored based on your interests. When we see images that interest us, we stop scrolling, read more about it, and share with our friends.
When your content includes visuals, you'll get your audience's attention. Even if it's for a brief moment.
Try using relevant visual content to improve your content marketing.
You don't have a content marketing champ
Maybe you're just not interested in content marketing at all. If you're not willing to dedicate most of your time to content marketing, then find someone who will. Your content won't be good if you don't believe in using it to achieve your business objectives.
That's okay because you're going to dedicate most of your time doing something you excel at.
Find a content marketing champion. Your champion could be your entire marketing team or even one client facing member of your team. Maybe you can be the hero by rolling up your sleeves and learning about content marketing. If you don't have the time, you can also look into working with a content marketing agency. Bottom line is, get someone who can help you tell your story.
Make sure your champ outlines an entire content marketing strategy. Your content strategy will need to include your goals, objectives, personas, and editorial plan.
Having someone on board who is 100% dedicated to content marketing is important. They'll help achieve your business objectives by planning and executing your content strategy. Your content strategy works when its executed by a strong leader.
Find your content marketing champ!
Your content doesn't have to suck
You don't want to settle for less. You might feel that you need to revisit your content after reading this article. Trust your gut and get to work right away! Once you have addressed these problems, you'll start to see your audience grow.
Bad content hurts your brand and credibility.
Great content increases your impressions and engagement.
What will you do to make sure your content strategy works? Who will be your content marketing champ?