You've heard it before – social media marketing is the way to go. Since 93% of all marketers use social media marketing for business, social media is definitely not groundbreaking stuff. How could you doubt that? But is it worth finding someone to outsource your social media?
Everyone is on their smartphones. Chances are you might even be reading this on your smartphone.
Social media usage is so ingrained within our culture. Just take a look at this infographic that WeAreSocial Singapore created.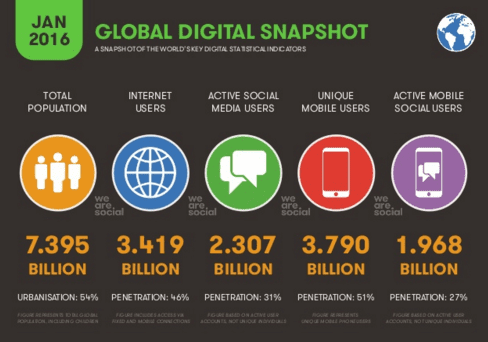 All of our attention is devoted to the dopamine rush that social media gives us. But using social media, and using social media for marketing purposes are completely different worlds. It's easy to identify what you like. You just hit follow and hit that like button.
The real problem is getting people to smash YOUR like button. Getting your audience to hit like and ultimately convert is what separates the most decorated social media marketers from the noobs.
This is probably why you've considered outsourcing your social media marketing. Getting someone else's perspective is always going to be valuable. When it comes to social media marketing, this can actually take your business to a whole new level.
Let's go over what you really need to consider before you choose to outsource your social media marketing.
Find the right people
You might be looking at a huge marketing agency or even a single consultant. You may be tempted to hire someone your friend referred you to, but you'll still need to determine if they are going to be the right fit for your company.
Since you are hiring someone to communicate with your audience on your behalf, they absolutely need to be the right person for the job. You can't just hire the most expensive agency and tick social media marketing off your checklist. The same goes for hiring the most cost efficient option as well.
So how exactly do you qualify your next consultant or social media marketing agency?
You need to realize that they will be communicating with your next potential customers. You wouldn't let a stranger manage your social media accounts. That responsibility goes to someone you can trust.
Start by looking at their website. Do they have any testimonials, reviews, or clients? Can you find any case studies that relate to your company's situation? Do they have a blog that provides valuable information?
Sometimes their website can be missing some of these elements. That doesn't mean you can't trust them. Take a look at their staff members. Do they employ people you want to work with?
Above everything else, you need to get them on the phone. Use this phone call as an opportunity to get a good scope of their personality. Once you've got them on the phone, here are a few good questions to ask:
What kind of work have you done for other companies in [insert your industry]?

How will you work with me to achieve my company's business goals?

How frequently will we communicate?

What kind of services should I expect from you each month?
You're basically going to be interviewing your next agency or consultant. Think about the process akin to hiring your own social media marketing department.
At the end of the day, you have to ask yourself: "Can they communicate my brand's core values?" If you answer "yes" without hesitation, you'll know they are the right people to handle your company's social media.
Once you've hit this point, you're probably wondering about the investment.
Measure the size of your wallet
Return on investment. Return on investment. Return on investment.
Say that three times in a dark monitor lit office, and the perfect social media marketer appears.
If only it were that easy.
You've set aside a budget for social media. All this talk about getting you leads, communicating with your audience, and creating pretty content amounts to one thing.
You need a return on your investment.
Let's say you're confident in your consultant or agency's ability to provide results. How big of an investment do you need to hire them for their services? Will it be worthwhile?
This obviously depends on where you live, who you want to work with, and the scope of work required. Your monthly investment can be the price of designer brand jeans (we're talking Christian Dior here). If you're looking to hire the big players in the social media game, you could be putting down a monthly investment upwards of $10,000.
The average actually hovers between $200 to $350 per day.
If you're looking for someone to manage all of your social media platforms, expect to fall within the upper tier of their price range. A lot of the agencies you speak with may use value-based pricing, which can consider metrics such as your company's gross profit per customer.
If you think your budget is a little slim, you can definitely take care of social media yourself. Buffer has an excellent article on how you can take care of your own social media marketing for $100 a month.
Although this can save you some money on marketing, you will be required to invest your own time. You should expect to invest time following trends, learning new features, and creating content.
The way your audience responds to content on social media constantly changes. This means you'll have to adapt and change the way you market your company on social media.
Which goes into the most important reason you want to outsource your social media marketing – your audience.
Understand your audience
Your audience, your prospects, your customers. They're the reason you're looking to outsource your social media marketing. They're also the reason your company exists. It's a problem when you don't understand why they do things.
For example – why are they busy liking memes, but ignoring your informational posts? Why is your content getting little engagement?
Questions like this are what drive you towards hiring a social media marketing agency. Your customers are the ones clicking "like" and purchasing your products. Your decision should weigh heavily on the lifeline of your company.
Before outsourcing your social media marketing, you need to have a good idea of who your audience is. Does your audience consist mainly of 15-year-old teens? Maybe you need to rethink your Facebook marketing campaign and consider adopting Snapchat.
This is the most important step towards successfully outsourcing your social media. You will need to have a deep understanding of who your audience is. You need to be able to hash out your findings to your agency.
Understanding your audience will set you and your social media marketer up for success. It is their job to have in-depth knowledge of social platforms, but it's on you to determine who it is you want to speak with.
Your agency or consultant will create campaigns based on your target audience. Imagine the difference in social media campaigns when you tell them you want to target 40-year-old men instead of 15-year-old teens.
Once you've got your target audience nailed down, you're most likely ready to outsource your social media.
Conclusion
Time have changed. Social media is widely regarded as one of the most effective ways to boost your brand's digital marketing strategy.
Your company's social media platforms are an extension of your brand. You may not have the in-depth knowledge of social media platforms, which is why outsourcing can be an attractive option.
You want to work with people who can keep up with the latest algorithm changes, predict trends, and communicate with your audience effectively. This is why finding the right people, identifying your budget, and understanding your own audience is recommended before you outsource your social media.